I'm being a terrible blogger, of late. Since April is full of birthdays, surely I'll do better next month. In the mean time, here are some pics from our Spring Break trip with the fam. Most of which are stolen from mom. Wow, I'm inconsistent AND a photo thief. I promise, I'll make up for it.
First, allow us to welcome you to historic Branson, Missouri. Where there's not much history, but there are lots of large fake bears, gorillas, Mount Rushmores, Cape Cods, Taj Mahals...I could go on and on.
We tried to see more of Natural Branson. There was a lot of rock skipping, and that's always good for the soul.
There was also a lot of coloring, by kids and adults alike. Also good for the soul.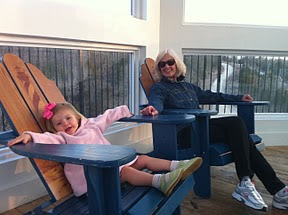 Keddi and Madi in the lighthouse (see aforementioned "Cape Cod").
The girls even played in the pool. I am not going to tell you the temperature of that water, because you would send the authorities immediately.
The girls had lots of quality conversation with Papa. And they spent a lot of quality time in this, their favorite spot. The bottom of the stairs. Weird.
At the end of every darn good evening is a darn good walk, followed by a rest in a gazebo.
- Posted using BlogPress